Updates
(all times Central)
Very minor update
[April 26, 2017 / 00:50]
Sometimes, I spend money on things related to VPW2, because I love it so much. An opportunity was presented to me by the best wrestling podcast to obtain a VPW2 poster, so I took it.
Anyways, the most interesting thing about the poster is that it contains a screenshot of Edit Mode with a different background from the released game. I've cropped that section of the poster and uploaded it for your viewing pleasure: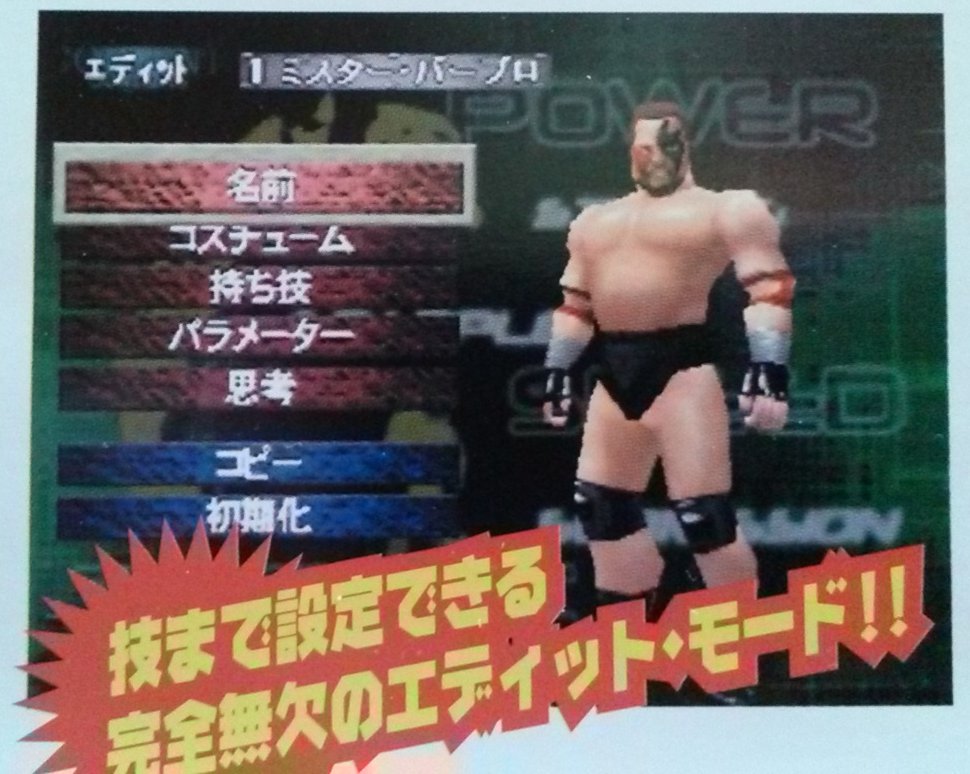 ---
Old documents found!
[January 17, 2016 / 17:52]
Going through some old discs, I found a collection of forum posts and websites I had saved around the turn of the century... I've left them unmodified, and the pictures aren't included either, but oh well. Enjoy.
---
You snooze, you lose.
[November 21, 2014 / 00:02]
Over a year passes, and someone else has done what I didn't thanks to me being distracted by something else, yet again. (Are you surprised?)
S.K. Stylez did not want to wait for me (which is a good idea, because at this rate, I wouldn't have gotten back to the VPW2 translation until 2015) and decided to take matters into his own hands. I applaud this effort, of course (and not just because I'm listed in the credits :p).
At some point, I really need to take a look at it to see if there's anything I can help with, if S.K. Stylez doesn't get to it first. :v But until then, there will always be people interested in the Virtual Pro-Wrestling series, it appears.
---
If you don't stop to look around sometimes, you'll miss everything.
[October 10, 2013 / 13:28]
Apparently spoondiddly is Zoinkity of N64 hacking fame. Why is this relevant?
A while back, I stumbled on this post on Lost Levels. This news is important because extracting files out of the ROM is the first step towards easier ROM hacking, as well as being able to play hacks on the real N64. A topic on ROMhacking.net talks about "Midwaydec", a program that can be used to extract files from WWF No Mercy.
The even bigger news out of this, though, is that Virtual Pro-Wrestling 2 is supported by this program, and that Zoinkity has been working on a translation of the game for some time now.
Keep in mind, I only just learned about all of this a few days ago. I have been in contact with Zoinkity and plan on helping him with the VPW2 translation. If anything, this will be penance for VPW 2000 many years ago.
---
Aside from the number of documents I've uploaded that are WIPs, here are some more WIP projects in detail:
Teaming up with WldFb: IT IS OVER NOW BITCHES, TIME FOR ALL VPW GAMES TO GET HACKED TO PIECES
Archiving and Integrating Hacker's Club Posts into my giant VPW archive: Well, JamStubb's site doesn't have everything, so I'm trying to find all the interesting shit at Hacker's Club that I would consider useful. (Attires, some matches, weapons, and most move hacks aren't as useful to me [considering I am trying to completely document the internal workings of the six N64 VPW games as fully as possible]; addresses of things and offbeat bullshit codes work nicely, though.)

Also, I will probably release a zip/rar/7z/whatever of the content I save so that everyone can use it. Eventually I may go back and rip attires/move hacks/etc. but I don't want the stupid off-topic drama and "retirement" posts. (lol at people getting bored of No Mercy after a year; I'm playing VPW2 on my N64 almost every day at this point, game still holds up 9 years later.)
Toki2s in VPW2: Seriously, I am tracing through the ASM and it takes forever just to write to where I want it to... 357 571 lines in (including whitespace and related commentary). Right now, it's not a high priority because of how evil VPW2 is with data.
Arenas in VPW2: DOOMSDAY EWF did some good work, but he sure as hell didn't cover everything. My documents have data on the other parts of each VPW2 arena, labeled as I figure out what the hell they are. Still looking for those damn movements. Perhaps more had been done than previously thought, but I don't remember any of those documents referencing object counts/pointers to locations which can be helpful for advanced hackers...
Arenas in Revenge: Hahaha this would be nice. Currently, I only have the arena stages somewhat mapped out. That's more than we had before, though. :D DOOMSDAY EWF did it a long time ago, found it on Hacker's Club. Will repost along with my stage values when the time comes. (proper credit will be given duh)
and it turns out sskilla hacked some of the stage addys already as well. :/
MultiToki: Gets the address of any set of Toki1/2(/3?) modifiers, given a move value. The Toki1 finders for specific games below are prototypes of this technology; the final version will be an all-N64 VPW games-in-one tool.
Various World Tour things: This involves finding various things in v1.1 (for my use) and finding/porting the addresses for other versions of World Tour. The costume locations are the first thing to get ported to non-v1.1 versions of World Tour.
VPW64 before the WCW License: After looking through the ID4 values of wrestlers in VPW64 again, I noticed a strange yet familiar pattern...
General Things [multiple]
Things that apply to multiple VPW games.
roster.txt
Listing of all characters in every VPW game with IDs. Completed up to (but not including) DJV. For the most part, this list only includes ID4s. ID2s are available for VPW (PS1) and WCW vs. the World. The original file was created before the discovery of ID-2 in VPW games on the N64.
tex2png (early alpha)
C# Program for converting TEX format images (found in RAM/ROM) to PNG. Requires .NET Framework 2.0 if you don't already have it.
Virtual Pro-Wrestling [PS1]
The original 1996 PS1 game that started it all. Unfortunately, I don't have much on this game yet.
The first VPW game to be released in the US.
WCW vs. nWo World Tour [N64]
Most of my info on this game concerns v1.1U as that's the one I own and can therefore Gameshark on. Matching values for v1.0U and v1.0P will be forthcoming, eventually. There is a guide to porting codes between all three versions, which may be of use if you are impatient. :)
Virtual Pro Wrestling 64 [N64]
WWF WrestleMania 2000 [N64]
Virtual Pro Wrestling 2 [N64]
Def Jam games [PS2,GC,Xbox]
Once I start caring about these more and figure out how to debug on an Xbox and Gamecube, I'll start working on it. Until then, there are more important VPW games to hack.
Virtual Pro Wrestling Collective
Unfortunately still private since I don't think it has enough info to launch lol. Contact me if you want a link anyways. :)
(it's currently being hosted off of a home DSL connection, so that's part of it. I'll move it here soon.)
WldFb Archive Forum
The new home of WldFb and his awesome work with No Mercy and VPW2.
JamStubbs Archive Forum
the collection of codes and values.
The No Mercy Zone
Hacking community focused on No Mercy (has a small section for VPW2 and other games).